Des vacances inoubliables
au cœur de la Dordogne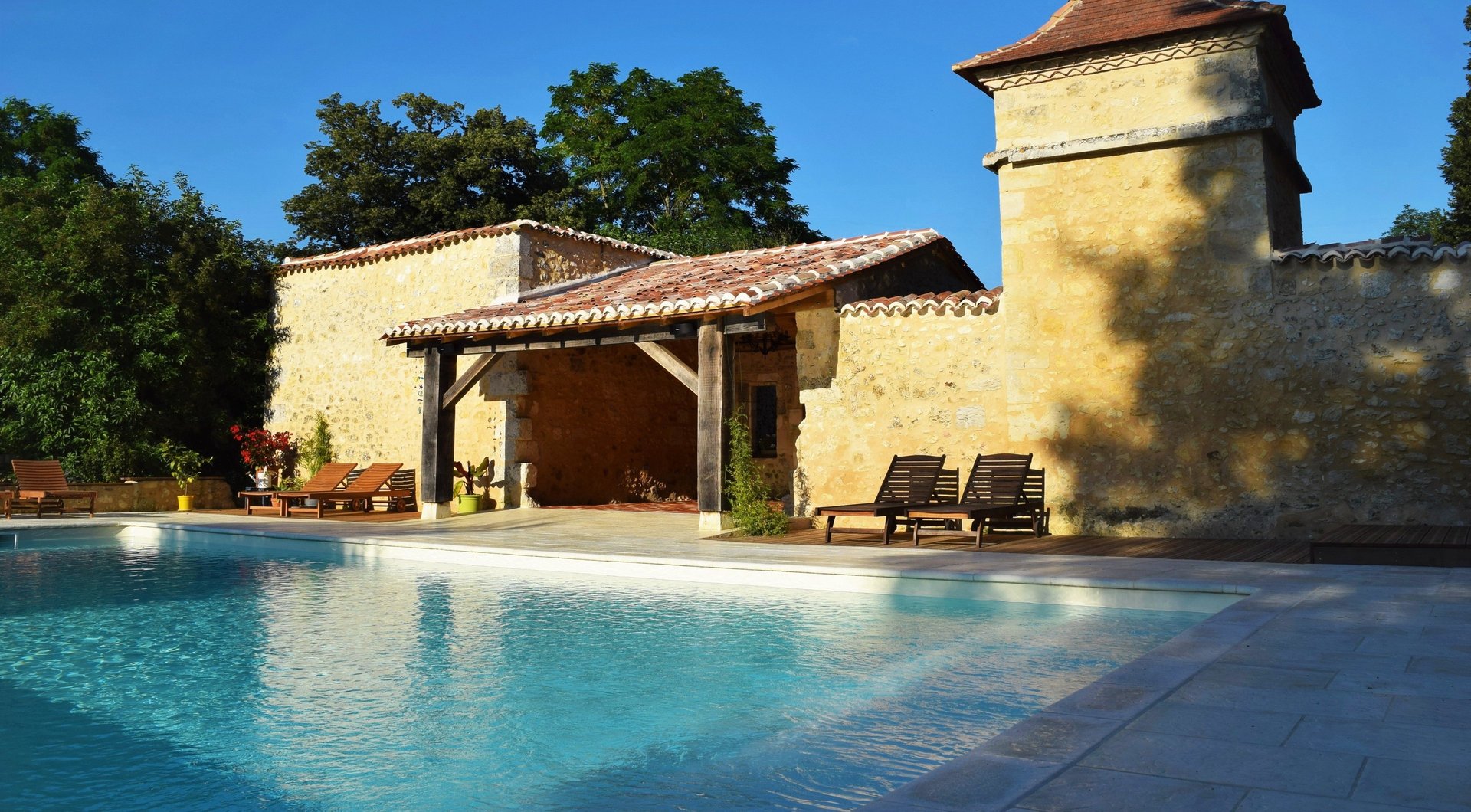 Commentaires
Mais ne vous contentez pas de nous croire sur parole. Voici quelques-uns des commentaires laissés sur divers sites d'évaluation en ligne :
Un havre de paix ! - Julie J, FR
"Nous avons passé un séjour absolument parfait chez Aasa et David qui sont des hôtes des plus généreux, sympathiques et sérieux. La maison, le parc, la piscine sont sublimes et parfaitement entretenus. Tout a été pensé, équipé et rénové avec beaucoup de goût, de respect de l'environnement et dans l'optique de faire plaisir aux clients. Nous avons été plus qu'agréablement surpris à tous les titres, la réalité dépasse largement l'annonce qui nous faisait déjà rêver ! Nous reviendrons avec un immense plaisir et recommandons la villa Magnieu les yeux fermés pour un séjour entre amis ou en famille!"
Great swimming pool, great grounds... - Cathy G, FR
"Great swimming pool, great grounds, chickens, trampoline, toys for children and helpful hosts. We were very content to stay local and appreciate the lovely outdoor area chez Aasa."
Un séjour exceptionnel - Sabrina M, FR
"A peine arrivés, nous étions conquis par les lieux. Un accueil charmant des propriétaires, attentionnés mais qui savent aussi se faire discrets. Le jardin est fantastique, tant la piscine que les espaces verts qui sont bien entretenus. De nombreuses activités sont mises à disposition pour les petits comme les grands..."
Utmärkt - Anna N, SW
"Fantastiskt ställe med mycket utrymme, helt idyllisk gård med fina växter och blommor. Perfekt med plats att njuta i solen och vid poolen, full utrustning att grilla och äta utomhus, mycket spel och aktiviteter. Vi var sju personer, inga barn, hyrde både gite 1 & 2 och det fanns precis allting man behövde. Värdparet oerhört trevliga! Besöker gärna igen och kan varmt rekommendera!"
Our own little paradise - Tammy P, CH
"We have just spent the most wonderful week in the Dordogne. Our accommodation was spotlessly clean and really felt like a home from home. We went with friends and having 2 gîtes included in the rental worked really well for us. We spent many hours in the fabulous pool and just soaking up the sunshine. There are also lots of options to hide away in the shade if needed. If you are looking for a relaxing break in beautiful surroundings with plenty of things to keep the kids happy then Villa Magnieu definitely gets five stars plus."
Fantastische plek voor een ontspannende familievakantie - Gitte N, NL
"Wij genieten nog na van ons verblijf in Villa Magnieu. Het domein is prachtig! Mooi onderhouden en vanalles te doen voor de kinderen (levensgroot schaakbord, boomhut, schommel, glijbaan, pingpong, tafeltennis, speelgoed,..). Het zwembad met patio is heerlijk om te verblijven. Er is vanalles te beleven op korte afstand zowel cultureel, gastronomisch als recreatief. De gîtes zijn heel proper en goed onderhouden. Je vindt er alles wat je nodig hebt. Aasa en David zijn supervriendelijk, hulpvaardig en respecteren je privacy. Een plek om naar terug te komen."
What a wonderful holiday we have just had - Neil F, UK
"Idyllic surroundings and lovely hosts. We couldn't have asked for any more than that. We loved Perigueux, St Astier and our great duck meal in the heart of the local community on the Wednesday evening. The gite, pool and garden are beautiful. The garden and pool in an attempt to describe them are almost beyond words. Imagine a huge garden, a giant chess board, a tree house, large pool, banana trees, grape vines, a fantastic terrace and amazing sunsets - and you have it. Our children did not want to leave, and to be frank, neither did we. 10 out of 10!"
Excellent gites for family reunion - Lynette S, New Zealand
"Aasa and David were charming hosts and we had a wonderful reunion with our English family. We were handy to all the lovely villages nearby, had the use of a large swimming pool and deck chairs. Would certainly recommend these gites for a stay in France."
Charmant et adorable - Angele C, France
"L'endroit est magnifique et tres bien meuble, terrasse au calme avec piscine !! ideale pour une grande famille ou un weekend entre amis. Les proprietaires sont tres chaleureux. Nous y retournerons avec plaisir."